Members of Lapunti UP Diliman Training Group went to Cebu for a 2-day visit last February 20-21 to pay respect to SGM Undo Caburnay and other senior Masters of Lapunti Arnis De Abanico. The visit also gave us an opportunity to train and talk with the Masters regarding the current state of Lapunti, and the possible directions that both the art and organization can take in order to progress in the future.
The group who visited Cebu was composed of Lapunti UP members Raymund Cabrera, Emil Penaflor, Ric Tariman, and Eujean Penaflor-Tariman, along with the club's Chief Instructors Master Buboy Ador and Master Nonoy Doncillo and assistant instructor Guro Alvin Penaflor.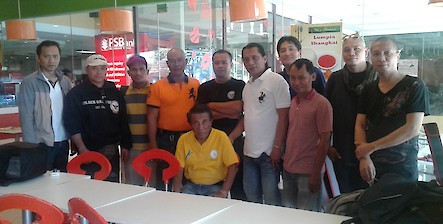 The group arrived in Mactan Airport early morning of Feb. 20 and proceeded to Gaisano Mall in Tisa for a breakfast meeting with SGM and various Masters of the art. Present at the gathering were Master Jun Igpit, Master Cris Cordesar, Master Edgar Caburnay, and Grandmaster Danny Jorquia. Master Edgar traveled all the way from his place in Talamban, Cebu, on his motorcycle, in order to attend and Master Cris brought along a great assortment of Lapunti sticks that the group preordered a few days prior–sticks that are thinner, slightly longer, but as tough or tougher than common arnis sticks, ideal for the fast Abanico strikes of the art–all handpicked and prepared by Master Cris himself. Master Buboy ordered the sticks for distribution to the members of Lapunti UP back in Manila.
After breakfast SGM Caburnay went back to his place in Tisa for a much needed rest while the group proceeded to find a place to stay in for the 2-day visit. The Masters were very helpful and accommodating in assisting the group as they checked on a number of inns and lodging houses near the area before finally settling in the GS Tourist Inn in Mambaling, Cebu. Accommodations taken care of, the group proceeded for lunch near Gaisano Jai-Alai where you could get some nice Lechon Cebu with hanging rice or 'puso' (lechon manok for Master Edgar, who doesn't eat pork). Afterwards the group proceeded to Master Jun's house in Cogon Pardo, where the Lapunti main headquarters gym is currently located.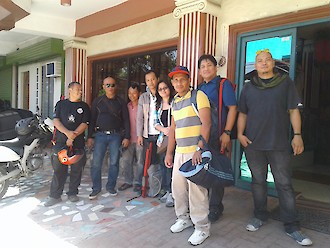 At Master Jun's place the Masters, now including Master Eddie Sultan who proceeded directly to Cogon Pardo, discussed the current state of Lapunti and what can be done to further foster unity and sharing of knowledge among the different groups comprising the Abanico Style brotherhood. An impromptu seminar followed, with GM Danny Jorquia encouraging questions on various aspects of Lapunti and addressing them with demonstrations that drive home the points he was trying to make, interjected with (as the UP group soon learned) his usual humorous style of discussing techniques and movements. The other Masters present all took part in assisting in the demonstration and explaining the finer points of Lapunti drills and techniques, as well as in pointing out common mistakes or wrong assumptions when it comes to the use of, or defending against, the various weapons in the Lapunti repertoire–the single/double stick, espada y daga, blades, and ultimately empty hands. All in all it was a very enlightening and enjoyable first day in Cebu for the Lapunti UP group.
The following day the group woke up early to travel to Master Edgar's training gym, finding a nice eatery near the inn that serves a tasty hot stingray soup called 'larang' at 4:30 in the morning, which made for the day's breakfast before embarking on the long trip to Talamban. The group took the scenic mountain route to Talamban via vhire (or van for hire) and arrived in Talamban at around 8:30 AM, doubling back twice via highway tricycles because of a wrong assumption that the vhire would stop in, rather than pass through, Talamban. The group finally arrived in Master Edgar's gym at around 9:00 AM and spent the rest of the morning training, with Master Edgar correcting and offering advice on the proper execution and variations in the different Lapunti forms and techniques. Master Edgar's two son's also gave demonstrations in Lapunti, who at 12 and 7 (or 8) years of age already seem to be very proficient in the art.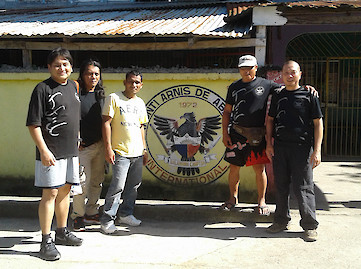 Master Edgar's school is quite spacious and well-equipped in a spartan sort of way. With many of the training equipment he made and fashioned himself but are at par with facilities you can find in any modern martial art training areas (and some that you would be hard pressed to find anywhere else being specifically designed to develop certain attributes in Lapunti or Yaw-yan, a Filipino kickboxing art that he also teaches). His training area is located adjacent to a modern weight training gym which Master Edgar also assists in managing.
The group took a break for lunch at around 1PM, with Master Edgar serving his choice of healthy food–fresh fish kinilaw (raw fish 'cooked' by just immersing in vinegar and spices), a salad of what looked like green seaweeds but as the group were told is actually a byproduct of the local butanding (whale shark), vegetable soup, boiled sweet potatoes and ground white corn–no red meat and rice on sight. Master Edgar informed the group that those are his staple food and what helps him maintain his strength. Suffice to say that the meal was a pleasant and enjoyable surprise for the group. After meal was spent on easy banter and sharing of news or stories in Lapunti. The group had to bade Master Edgar farewell at around mid afternoon to keep an appointment with SGM Caburnay before they leave back for Manila.
The group arrived back in Tisa at around 4:30 in the afternoon and met with SGM Caburnay again in Gaisano Mall. Then went back to the inn for a shower and rest to wrap up a very productive and enriching 2-day visit with the Masters. We would have liked to do more and stay longer, especially to visit the more senior practitioners of Lapunti like GM Antonio Alingasa (perhaps now the only living member of the original Arnis de Abanico Circle formed by the elder Caburnay brothers–Arsenio and Filemon Caburnay), but time was short and we had to go back to Manila the following day. We will be back though and that would be the first order of business next time.
Lapunti UP would like to thank SGM Caburnay and the Masters mentioned for the kindness and hospitality that they have shown us throughout our stay in Cebu, for openly sharing their vast knowledge and experiences, and most importantly for making us feel that we are indeed brothers and sisters in the larger family that is Lapunti. Daghang salamat sa inyong tanan.