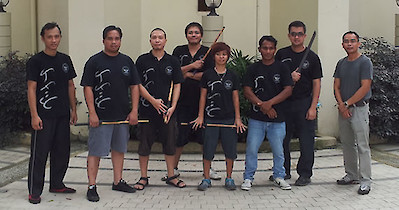 Lapunti Arnis De Abanico International, University of the Philippines, Diliman Training Group (Lapunti UP Diliman Training Group, or simply 'Lapunti UP') is first and foremost a community or venue for learning, practice, and advancement in and of the Filipino martial art that is Lapunti Arnis De Abanico.
The club began informally as a small group of Lapunti instructors and students who were looking for a place where they could focus on their training in relative peace and isolation. In December of 2010 they found their old training venue inside the Quezon City Memorial Circle to be too busy and crowded with the coming of the Christmas season's makeshift market (referred locally as Tiangge). Two of the club's members who were former students of UP Diliman suggested an alternative venue inside the campus. They scouted the area and found a good place within the grounds of the UP Lagoon. The relative peace and quiet, and close-to-nature ambiance of UP Lagoon proved too ideal that what was supposed to be a temporary alternate venue became a regular meeting place for the group. In January of 2011, the group gained the permission of their mother club in QC Circle and began establishing what was to become the new Lapunti Chapter in UP.
Today the Lapunti UP Diliman Training Group is an officially recognized Chapter, established with the personal blessings of the late Supreme Grandmaster Prudencio 'Undo' Caburnay, and exists under the auspices of the LADAI Main Headquarters in Cebu. The training group began accepting new members in 2011 and in 2012 moved their training area to the open park at the base of the UP Carillon Plaza.
The original training group was composed of Master Buboy Ador, Master Nonoy Doncillo, Guro Patrick Marquina, Winston Novo, Mannix Moya and Alvin Penaflor. They were later joined by Ellen Joy Balgos, Alvaro Emil Penaflor, Ric Tariman Jr., and Eujean Penaflor-Tariman, who together formed the founding members of the club.

Club Instructors & Officers
Master Buboy Ador

Danilo "Buboy" Ador, Dalubhasang Guro (Master Instructor)
CHIEF INSTRUCTOR

Master Buboy started studying Lapunti when he was 7 years old, under the tutelage of GM Cris Ampit. He and his first cousin, Master Nonoy Doncillo, are the most senior practitioners of the art in Luzon having been a student and teacher of Lapunti for more than 20 years now. SGM Undo Caburnay would often stay in GM Cris' house whenever he visited Luzon and also served as instructor to the cousins during those times. When not practicing or teaching Lapunti Master Buboy works as a chief electrician in charge of planning and implementing electrical wirings for buildings and construction companies.

Master Nonoy Doncillo

Edwin "Nonoy" Doncillo, Dalubhasang Guro (Master Instructor)
CHIEF INSTRUCTOR

Master Nonoy has been practicing Lapunti for more than 20 years now, having started as a young protege of GM Cris Ampit with his first cousin Master Buboy Ador. He and Master Buboy started teaching the art from an early age having been a constant companion of GM Cris Ampit performing in martial arts demonstrations and exhibitions. He and his cousin has taught many students both in Bulacan and Metro Manila, especially in the Quezon City area. Master Nonoy is a construction foreman and carpenter by trade and lives with his wife and son in Bulacan.

Guro Alvin Penaflor

Alvaro "Alvin" Penaflor II, Guro (Instructor)
INSTRUCTOR

Guro Alvin started learning Lapunti when he joined the Lapunti Quezon Memorial Circle group in early 2010. His first instructors within the group included Guro Lohny Gubalane, Sir Floro, and Guro Patrick Marquina, then Masters Buboy and Nonoy whenever they would visit from Bulcan to train with the Quezon Circle group. Later that year he invited Master Nonoy to his residence in Quezon City and asked him if they could also hold separate training sessions there. Master Nonoy agreed to take him on as a student and brought along Master Buboy during the following sessions. On their first training session Alvin invited fellow Lapunti Quezon Circle student and fraternity brother from college, Winston Novo, and thus began their training under the two Masters. And that small group comprised of two students and two Masters served as the rough beginnings of the idea that was to become the Lapunti UP Diliman Training Group.

Guro Alvin is a Web Developer and Technical Writer by profession, and a father of two by lifelong occupation. He has been studying various forms of martial arts and philosophies since the age of 12 and counts these two subjects as his other preoccupations or distractions in life. Nowadays he just combines these two interests and refers to them as 'Lapunti'. He lives with his youngest son in Quezon City.

Marielle Aznar

Marielle Aznar
CLUB PRESIDENT

Marielle was introduced to the art of Arnis while she was still an undergraduate student. She officially joined the Lapunti UP Diliman Training Group in November 2018, after having trained and been promoted to the intermediate level.

She is a Human Resource professional who helps companies with organisational development. She completed her masters degree in Industrial Relations at the University of the Philippines in Diliman.

Jane-Raida Bani

Jane-Raida Bani
CLUB SECRETARY

Charlie Dumaya

Charlemagne "Charlie" Dumaya
CLUB TREASURER

Charlie joined Lapunti UP Diliman Training Group in May of 2018, almost a decade after his first read about arnis as part of his high school curriculuium. Today, he sets aside every Sunday morning to indulge in his newfound passion. When he's not pondering the depth of techniques available to the art, he's juggling a day job as a Knowledge Base Specialist and a career as a freelance writer. He's also finishing a degree in Multimedia Studies.